Language
BERG Trampolina Favorit Gray 430 cm + Siatka Bezpieczeństwa Comfort + Gra Zręcznościowo Logiczna LEVELS
Shipping within

3 days

Shipping price

0

The Availability Of

Mało

7

couples

The Weight Of The

42.5 kg
| | |
| --- | --- |
| The bar code | |
| EAN | 8715839071207 |
Zamówienie telefoniczne: +48 720 976 829
Description

Parameters

Reviews & ratings (0)

Ask a question

Skakanie na trampolinie to świetny sposób na odstresowanie się, poprawę krążenia i kondycji fizycznej. Trampoliny Berg to najwyższa jakość na rynku!

Co wyróżnia trampoliny Berg na tle innych producentów?
Po pierwsze producent przeprowadza niezależne testy TUV, Intertek i AiB Vincotte oraz testuje odporność materiałów od warunków pogodowych. Trampoliny są wyposażone w ekstremalnie mocne maty do skakania, umocowane na solidnych sprężynach. Krawędzie są idealnie dopasowane do maty, co zwiększa bezpieczeństwo i komfort skakania, a materiał z którego są wykonane jest odporny na promieniowanie UV i przemakanie. Konstrukcja jest jeszcze bardziej stabilna dzięki wzmocnieniu spawów ramy oraz zastosowaniu stalowych połączeń, które są zdecydowanie mocniejsze od plastikowych. Wszystkie stalowe elementy są odporne na korozję dzięki zewnętrznej i wewnętrznej powłoce z cynku. Do trampoliny jest dołączona samo zamykająca się siatka, która zabezpiecza przed wypadnięciem z obszaru skakania.                                                                                                                                                                                                                   
Całość jest bardzo łatwa w montażu.
Charakterystyka:

- Średnica: 430 cm
- Maksymalna waga osoby skaczącej: 120 kg
- Odległość maty od ziemi: 90 cm
- Szerokość bocznej osłony: 38 cm
- Ilość sprężyn: 96
- Powierzchnia maty: 10,2 m2
- Testowana pod obciążeniem maksymalnym:600 kg
- Okrągła konstrukcja trampoliny

- Najwyższa jakość materiałów

- Całość jest bardzo łatwa w montażu
-Wyposażony w sprężyny GoldSpring Solo zapewniające wiele radości ze skoków.
-Krawędź ochronna ma długą żywotność ze względu na grubą górną i dolną warstwę PVC.
- Wysokiej jakości siatka bezpieczeństwa ma samozamykające się wejście z wykończeniem
- Dla bezpieczeństwa słupki zostały osłonięte grubą pianką
-Konstrukcja trampoliny i siatki jestbardzo bezpieczna ze względu na stabilną konstrukcję oraz stalowe zaciski i elementy montażowe.
- W zestawie gra zręcznościowa, logiczna LEVELS Game!
Rekomendujemy zakup drabinki do trampoliny (kod produktu: 35.90.04.00).
Gra zręcznościowa, logiczna LEVELS Game:
LEVELS Game to wymagająca gra, która w zabawny sposób stymuluje rozwój dzieci, łącząc zdolności fizyczne i poznawcze. Gra została stworzona we współpracy z nauczycielami szkół podstawowych dla dzieci w różnym wieku. Najmłodsze dzieci uczą siękolorów i zaczynająrozwijać równowagę. Starsze dzieci są zachęcane do zapamiętywania coraz dłuższychserii i do trudniejszychsum. Gra zawiera 3 piłki i instrukcje gry! LEVELS oferuję3 różnewarianty gry!

Produkt przeznaczony tylko do użytku prywatnego.
Trampolina posiada części zamienne - każdą cześć można dokupić!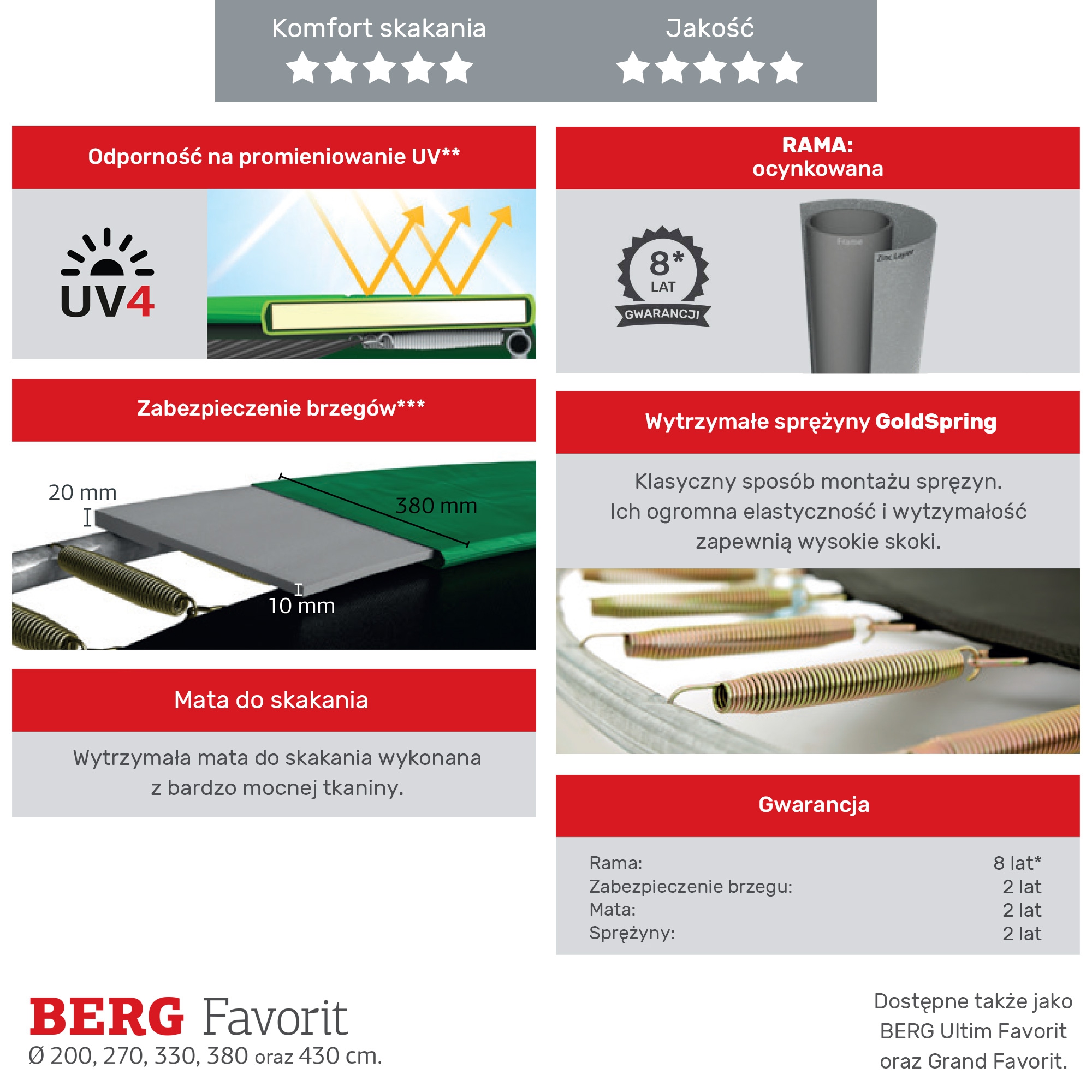 [img-88090-left-thickbox_default]
| | |
| --- | --- |
| Wiek | od 6 lat |
| Wymiary produktu | 430 x 270 cm |
| Płeć | chłopiec/dziewczynka |
| Dopuszczalne obciążenie | do 120 (kg) |
| Typ | Favorit |
There is currently no comments or ratings for this product.
Recently viewed products

Other Customers also purchased

Similar products